40 Acres and a Mule
7620 E. 79th St.
Kansas City, MO
816.358.9036
Seating Capacity: 300
9103 E. 39th St.
Kansas City, MO
816.737.4771
Seating Capacity: 900
1400 NE Coronado
Blue Springs
816.220.4400 x500
1400 NE Coronado Dr
Blue Springs, MO
816.220.4400
Seating Capacity: contact venue
1601 RD Mize Road
Blue Springs, MO 64014
816.220.3673
Alexander Majors Historic House & Park
8201 State Line Road
816.333.5556
Seating Capacity: 225
Notes: No Alcohol Permitted
1809 Crossgate Drive
Lawrence KS
785.842.0004
410 E Dennis
Olathe, KS 66061
913.782.0621
American Legion Post #327
6521 Nieman Road
Shawnee, KS
913.631.7710
American Legion Post #499
499 S. Missouri Hwy. 7
Blue Springs, MO
816.229.4990
Seating Capacity: 350
25th and Grand, Crown Center
Kansas City, MO
816.426.1133
Seating Capacity: 96 seated
Ameristar Casino
3200 N. Station Dr.
Kansas City, MO
816.414.7000
Seating Capacity: 275
AmeriSuites - KCI
7600 NW 97th Terr.
Kansas City, MO
816.891.0871
Seating Capacity: 120
777 N.W. Argosy Parkway
Riverside, MO 64150
816.746.3140
Seating Capacity: 450
From: bmf8140
A+ ~~ I would definitely urge everyone looking for a reception location to check them out. I canít tell you how much stress they took off of my shoulders! Mark Silleck with the coordinator I worked with during planning, and he is the nicest guy. Any email I would send him would get a response within an hour or two! Everytime we went for a meeting, he would treat us to the buffet (which isnít cheap). He also offered to have everything set up for us at no extra cost. I really donít know how it would have happened if they wouldnít have set it up for us. We were rushed as it was! The meals were served quickly and on time and were delicious. The day of coordinator came up to me at least 4 times during the night to see if we needed anything (temperature change, lighting change, etc.) and was extremely polite and helpful. He even had everything taken down for us and let us keep it there until noon the next day. The price for a plated meal is very reasonable compared to the other places I checked out. Also, there will be a new hotel open in the Fall of '06 (for those of you who will have out of town guests or those who donít want to have to worry about driving home)

My sister had used them for her reception three years ago and they did such an amazing job that I really had no hesitations in booking them for our reception. The planning process went very smoothly, they were open to all of my ideas and substitutions regarding the menu and even brought in a Pabst keg for my husband who loves their beer!! We had a bit of a mix up a week before the wedding regarding a room being double booked, but they were very apologetic and completely made the night work for us on top of offering a sizeable proposal for my stress J The food was amazing, people raved about it all night long and they even packaged up quite a few leftovers for us to take back to our room. They did all the dťcor for me and everything looked beautiful, they even took followed all of the logistic details that I had requested. For the price and all the extras, the Argosy did an awesome job and I would highly recommend them!!
One Arrowhead Drive
Kansas City, MO
816.920.4700
Seating Capacity: 350
115 W. 18th St.
Kansas City, MO
816.421.2292
Seating Capacity: 150
21350 West 153rd Street
Olathe, KS
913.322.4980
A ~~ it was sort of expensive but we loved it! I worked with Michael throughout the planning process and that evening everything was perfect and looked beautiful! We also loved picking out our own catering, bringing in our own liquor, and bringing in our own DJ.
Ballet Conservatory
16816 E. Hwy 40
Independence, MO
816.373.3456
Seating Capacity: 200
301 W. 13th St. Ste 100
Kansas City, MO
816.513.5000
Seating Capacity: 1000
15880 Interurban Road
Platte City, MO 64079
816.858.5556
6401 East 87thy Street
Kansas City, MO
800.437.2624
Seating Capacity: 300
1525 Grand Blvd
Kansas City, MO
816.842.8480
A ~~ This place is AMAZING, and I highly recommend! We had people asking us about it all night long!!! I know their prices are going up, but Ron is constantly adding to the space to make it more useful for events. Sandy was our contact there.
A ~~ Everyone absolutely loved this space! Its so different and unique, I had people asking me all night long how I found it. Plus it made for some really awesome pictures. I booked them back in the spring before he hired an event coordinator, and Ron was super easy to work with, as was his coordinator once she came on about 2 months before the wedding. They provided all of the tables and chairs, votive holders and 250lb ice machine. Their staff was there in the morning to set up the tables, and I heard they were there throughout the reception, though I didnít see any of them. Heís recently built a bar into the space, which was really cool and the bartenders really seemed to appreciate it. When I went down to meet with the coordinator the week before the wedding, I was a little upset that the pool table had not been moved, which we had been promised several months before. The way it was set up kind of broke up the flow of the space, and since we were using it for the buffet, I wanted it moved to a better location. She told me they wouldnít be able to move it, and by that point I figured there wasnít much I could do. So imagine my surprise when I showed up at the reception and it had been moved! Awesome place to work with.
Best Western Inn & Conference Center
501 Southwest Blvd
Kansas City, KS
913.677.3060
Seating Capacity: 250
313 West Pacific
Independence, MO
816.461.3491
Seating Capacity: 150
Bliss Cottage
203 S.W. Jefferson
Lee's Summit
816.347.8567
1303 West Main
Greenwood, MO
816.347.8565
Seating Capacity: 200
Blue Springs Civic Center
200 Ashton
Blue Springs, MO
816.224.1702
Seating Capacity: 400
777 West Burning Tree Drive
Kansas City, MO 64145
816.942.3292
Seating Capacity: 300
8223 West 103rd Street
Overland Park, KS
913.648.1600
Seating Capacity: 300
502 Nichols Rd
Kansas City, MO 64112
816.561.5888
A ~~ The food was amazing and the room set up was great. We didn't even notice the servers as they brought out the different courses. Lunch there is $17.95 a person which I didn't think was too terribly bad for the quality of food. The only problem I had, and it wasn't their fault, was the fact that coordinator I had been working with quit before our wedding and the other main coordinator went on vacation so I was left with the new lady. That being said, she absolutely bent over backwards to make sure we were taken care of, even volunteering to open the restaurant 1 hour earlier than usual just so my family could come by and double check everything.
1935 McGee
Kansas City, MO 64108
816.221.3606
Seating Capacity: 300
4124 Pennsylvania
Kansas City, MO
816.531.1097
A ~~ We got tons of compliments on the space and everyone LOVED the food. They were supposed to make a free-standing menu for the buffet but for some reason that didnít happen, but it really wasnít a big issue. We were pretty happy with the service and the bartenders were nice. Aaron Burns was our contact there and he was really nice to work with. Sometimes he needed a little ďhand-holdingĒ during the planning but everything came out as we wanted in the end. Californos is very accommodating and patient. Everything is included in one preice per person (food, open bar, taxes, gratuity, room rental, linens, etc.) I highly recommend them!
The Central Exchange
1020 Central
Kansas City, MO 64105
816.471.7560
Seating Capacity: 175
3325 Circle S Lane
Lawrence, KS
785.843.4124
2100 Broadway
Oak Grove, MO
816.690.3773
Seating Capacity: 310
Clarion Hotel KCI Airport
11832 Plaza Circle
Kansas City, MO
816.464.2345
Seating Capacity: 200
100 Blue Jay Drive
Liberty MO
816.792.3500
Seating Capacity: 200
A ~~ I love this venue. Itís very plain but looks so amazing once you add your personal touch with dťcor. You have to provide everything except tables, chairs, and ice. Thereís a large ice chest in the ďsnack barĒ area. Itís REALLY cheap to rent so it makes it cost effective to hire vendors for the other things youíd need (caterer, DJ, alcohol, etc). The manager isnít very pleasant but you only deal with her for the contract. She isnít there to decorate or assist with the event. Note: The link is to the venueís event calendar so you can see if your date is available. They donít have a webpage.
1000 Broadway
Kansas City, MO
913.649.0223
Seating Capacity: 400
A ~~ Even with all the crazy staff changes, I thought John did a great job, and Club 1000 was beyond beautiful. While John has now hired out several different coordinators, I just worked with John and he was very professional and friendly. He let me bring all my reception stuff to Club 1000 Thursday morning (even though my wedding was on Saturday and there was a wedding Friday night) and he locked everything up in the kitchen storage closet. He added additional beer for us since my ILs liked one not on the list. Club 1000 itself is just a beautiful site, and I adored going to all the free mock-wedding events it had.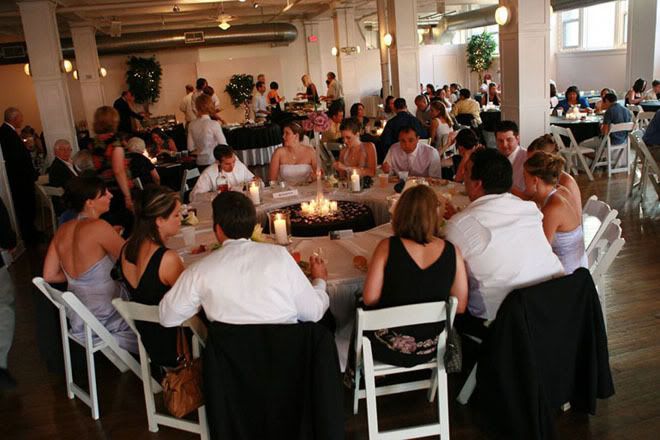 A+ ~~ The setting was exactly what I wanted - very urban, chic and springy feeling. We got tons of compliments on the uniqueness of the facility from our guests. I had a great time working with John Berkowitz and Dawn - they were very organized and did everything I needed them to do without me having to ask. Yes John can be very specific about what you can and can't do in his place - but follow the rules and you will have no problem. They also had a second coordinator on site for both our RD and wedding whose name was Elizabeth. She was super friendly and kept us right on schedule. Nothing fell through the cracks, they did what I hired them to do. Job well done.
1228 Baltimore
Kansas City, Missouri 64105
816.221.8986
Seating Capacity:
| Room | Sq. Ft. | Theatre | Banquet | Reception |
| --- | --- | --- | --- | --- |
| Tudor Room | 4900 | 375 | 350 | 500 |
| Tudor Balcony | 2800 | N/A | 100M | 100 |
| Presidents Room | 3500 | 250 | 200 | 275 |
| Main Lobby | 3500 | N/A | N/A | 200 |
| Florentine Room | 1950 | 200 | 125 | 150 |
| Old Grill Room | 1200 | 100 | 120 | 150 |
| Club Room | 1500 | N/A | 100 | 150 |
| Walnut Room | 3750 | 250 | 200 | 250 |
Warrensburg MO 64093
877.729.8266
Seating Capacity: 220 people
used by mrs.peraud
From: mrs.peraud
The Cotillion Room at the Ballet Conservatory
16816 E. Hwy. 40
Independence, MO
816.373.3456
1600 N.W. Circle Dr.
Blue Springs, MO
816.229.1194
Seating Capacity: 150
The Crystal Ballroom
used by NargesND
From: NargesND
I am totally bias here because the owner of the room is a good friend to my dad and my dad manages the room, so NO complaints. We were allowed to decorate and the caterer to setup on the Thursday prior, so that alleviated TONS of stress. The room is huge with 3 big, beautiful chandeliers and that French plaster stuff on the ceiling. My only gripe - It is in Grandview which is, at best, a 20 minute drive from most decent ceremony locations. But there is ample parking and a separate room for the buffet. FINAL SCORE: 5 bouquets out of 5
7000 West 133rd Street
Overland Park, KS
913.681.3594
Seating Capacity: 300
Disabled American Veterans Hall #2
8787 Old Santa Fe Road
Kansas City, MO
816.765.8787
Doubletree Hotel Downtown
1301 Wyandotte
Kansas City, MO
816.460.6618
Seating Capacity: 325
Drexel Hall
3301 Baltimore
Kansas City, MO
Seating Capacity: 400 seated
used by KS*sparkler*
From: KS*sparkler*
Lovely! The hall was completely transformed once the linens, flowers, and decorations were brought it. The owner was fabulous to work with. He always responded to calls and emails the same day. You can bring in your own alcohol which saved us tons of money and the rental isn't bad either ($1,995). A few of our OOT guests had trouble finding the location. We put dinner tables on the balcony (younger friends) and main floor (family and older adults), so there wasn't as much action on the dance floor as there could have been, but I'd do it the same way again.
1245 E. 15th St.
Lawrence, KS
785.832.7920
1310 Carondelet
Kansas City, MO 64114
816.942.8870
701 Massachusetts
Lawrence, KS
785.749.5011
Seating Capacity: 200
2007 Cost -- $750 for ballroom rental on Sunday
A ~~ The Eldridge was absolutely wonderful. Joanna, the coordinator, was on-point and willing to answer any questions any time. This is a small hotel (only about 50 rooms), so we had to beg to get a block of 25, and they weren't cheap by any means. Rooms there start at about $150 a night. I really have no complaints other than the room block was a pain at some points. Prices went up at the first of the year, and my MOH told me she was charged more than what we had quoted on the STD. So I had to call the sales director to get that worked out. Drink prices were also very affordable. Everyone raved about our reception venue -- from its intimacy to its style. It's really a great place to have your reception (or ceremony) if you're wanting to make a statement.
401 Regent Street
Excelsior Springs, MO
816.630.5500
Seating Capacity: 300
220 W. 43rd St.
Kansas City, MO
816.931.3227
Seating Capacity: 250
Review listed under ceremony reviews
Embassy Suites KCI Airport
7640 NW Tiffany Springs
Kansas City, MO
816.891.7788
Seating Capacity: 1000
A+++++++++++ ~~ Joy is who we worked with and she is just amazing! She has been overly helpful with the reception and how it flows the best! She was there for most of the night and made sure we had drinks and that everything went smoothly! The reception itself was wonderful! The room looked amazing and the food was too die for!!!! I LOVED IT!!!! I am not a fancy eating person and I liked it! We had requested Chicken Cordon Bleu and it was great!!! Embassy also did our ice sculpture and it looked awesome! They set up the tables and cake table and they looked super great! I am so glad that we had our reception here-it wasnít our first choice but I am so glad that we ended up with them!!! We also stayed in their presidential suite the wedding night and it was amazing!
13600 Arrington Rd
Grandview, MO 64030
816.761.8990
Seating Capacity: contact venue
used by little.princess
From: little.princess
C+ ~~ This one is a little more complicated. I wouldn't necessarily recommend for or against this venue. It has an amazing price, holds a lot of people and they gave us NO trouble pre-wedding. They even let us in the night before to set up tables and the DJ equipment, even though they normally won't let you in until morning. HOWEVER! The day of the woman in charge was terrible to the caterer and my mother. She was snotty and rude and she wouldn't stay out of my reception in her luau clothes. And then the next day, she called and accussed us of breaking a table, when none of them were broken after the breakdown.
The Emporium Rental Hall
316 Main St.
Belton, MO
816.318.4600
Seating Capacity: 300
909 N. K-7
Olathe, KS
913.764.7759
15 West Wea St.
Paola, Kansas
785.869.3997
Seating Capacity: contact venue
209 West 46th Terr
Kansas City, MO
816.753.0054
A+++ ~~ This place was fantastic! The planning was very easy, the food was incredible and the layout of the room and bar area were perfect! Plus it really helped our budget that they did not charge a site rental fee. We were able to get in super early in the day to set up as well.
300 W 12th St.
Kansas City, MO
816.842.5500
Seating Capacity: 150-200
9555 NW Hwy N.
Kansas City, MO
816.330.3344
Seating Capacity: 150
Fundways Theme Party Warehouse
2420 Merriam Ln.
Kansas City, KS
913.236.4242
Seating Capacity: 275
1547 N.E. Rice Road
Lee's Summit, MO
816.554.2800
126 State Ave.
Bonner Springs, KS
913.596.7077
713 Main St.
Grain Valley, MO 64029
816.215.5236
Seating Capacity: 280
425 6th Street
Osawatomie, KS 66064
913.256.2272
Hallbrook Country Club 11300 Overbrook Road
Leawood, KS
913.345.1011 Hardware Cafe Banquet Room 5 E. Kansas
Liberty, MO
816.792.3500 6008 NW Bell Road
Parkville, MO
816.505.1224
Seating Capacity: 112 seated or 300 seated 10401 Hillcrest Road
Kansas City, MO
816.784.7000 8200 Hillcrest Road
Kansas City, MO 64137
816.523.8601 x 3
Seating Capacity: contact venue Hilton-KCI 8801 NW 112th St
Kansas City, MO
816.891.8900
Seating Capacity: 450 used by ErinE683 From: ErinE683 A ~~ This was such a cool location. They have been catering for a long time, but have only owned this space for a little over a year. It is a stylish old loft space in the West Bottoms. They provide everything, and the food is made in their attached kitchen. I would highly recommend this location to anyone looking for a hip, urban location. Their event coordinator, Denise, was helpful and really made things run smoothly. 2700 W. 27th St.
Lawrence, KS
785.832.7920 Holidy Inn From: KUbride06 Sunset Ballroom ~~ C for staff, A for location and food ~~My main beef with the Holiday Inn was my coordinator, whom I worked with all along. She forgot to tell me that she wouldnít be working my reception- her assistant would. Her assistant was quite the snot, and had no clue what was going on. The bartender kept screwing up the bar, too, and making people pay for wine, beer, and soda, which we were picking up the the tab for. Luckily, none of the guests noticed or complained, but me, DH, MOB, and MIL were quite ticked for the first hour of the reception! The food was really good, though, and we got nothing but compliments from our guests despite the headaches. Location: Reeder Rd B ~~ This is a long review! We used the banquet room on the 8th floor. Originally, we were planning on using a different, less expensive reception location but after my mom passed in april, we decided to go here because it would be less DIY. The reception hall was set up beautifully, but the bartender SUCKED! We had pre-ordered 2 kegs and if we ran out of beer they were told to serve bottles and add them to the tab (yes, this was in the contract). We also paid for wine. They were supposed to have a cash open bar, but there was barely any alcohol- she couldn't even make a margarita on the rocks! With an hour left of the reception, the keg ran out. The bartender refused to serve bottles and add them to our tab so the guests had to pay for the beer they drank in the last hour. I was SOOOO pissed! Also, they ran out of White Zinfandel (the wine I drink) about 2 hours into the reception. I asked here to go get more and she said she didn't want to-hello, I'm paying you! Afterwards, Debera (wedding coordinator) gave us a $200 refund, but the damage was already done. Speaking of Debera, she is really a nice person and sweet to work with but I think she's a bit spacey. She called me at least 4 or 5 times the week before the wedding with questions to things I had already discussed in writing (contracts) with her. Everything turned out in the end, but I'm not sure it was worth the money. Oh, they did give us 2 complimentary rooms on Fri. (1 for the girls and 1 for the guys) and a suite for DH & me on Sat. night. This saved a lot of money! Ivonne, the catering manager (?) was amazing! When I had a question I always spoke with her because she gave me correct, prompt responses. The food was REALLY GOOD and the floor had its own bathrooms-which was nice for the guests. I would recommend this vendor, but only with a different bartender. Oh, and one last small gripe-they brought plates of food to our room, which was very nice of them, but left the plates on the coffee table in the living room rather than in the fridge and we didn't even notice them til the next day, so no food for us boo B+ ~~ We chose the Holiday Inn for the fact that we wanted something where we didn't have to spend a lot of time and stress decorating and worrying about details. It was so nice to just give it to them, and they took care of everything. Also, it was nice having it at a hotel so no one had to drive anywhere afterwards. The whole 8th floor is the banquet hall, it was nice to have it with bathrooms there too! Debera is the coordinator. She's very nice and did a good job. But, she was hard to get ahold of. I had several times when she wouldn't answer my emails for a week or so if at all. Also, she was out of town right before my wedding and didn't let me know. I had a ton of questions and they had to wait until four days before the wedding to be answered! It was nice to have everything done for us, but it was definitely more expensive. The alcohol was crazy expensive compared to buying and bringing it in, same with the food. I think if I had it to do again, I would rent out a place and bring in our own stuff. Hilton Garden Inn 520 Minnesota Ave.
Kansas City, KS
913.342.7900
Seating Capacity: 700 18807 158th St
913.724.9463
Seating Capacity: up to 150 106 West 12th Street
Kansas City, MO
816.221.7000 106 West 12th Steet
Kansas City, MO
816.221.7000 The food is amazing. We did passed hors díoeuvres with six choices - crab cakes, mini kobe beef meatloaves, chicken satay, mini pigs in a blanket, micro burgers and shrimp quesadillas. We also provided a full open bar. Yes, it is more pricey because it is a "one stop shop"...but I was willing to splurge on food and booze and give up other things. One thing I learned in planning...itís all about your priorities. James P Davis Hall 91st & Leavenworth Rd.
913.596.7077 used by lgambill 6847 Tomahawk Rd.
Mission Hills, Kansas 66208
913.362.6204
Seating Capacity: up to 200 1261 St. Louis Ave.
Excelsior Springs, MO
816.630.6745
Seating Capacity: 150 One Royal Way, Kauffman Stadium
Kansas City, MO 64129
816.504.4016
Seating Capacity: 400 6700 Zoo Dr.
Kansas City, MO
816.513.5808 KC Conference Center 201 W 14th
Kansas City, MO
816.513.5014
Seating Capacity: 1100 KCI Airport Marriott 775 Brasilia Ave.
Kansas City, MO
816.464.2200
Seating Capacity: 300 KCI Expo Center 11730 N. Ambassador Dr.
Kansas City, MO
913.891.7694
Seating Capacity: 50-3000 KC Museum 3218 Gladstone Blvd.
Kansas City, MO
816.483.3300
Seating Capacity: 350 KC Royals Stadium Club 1 Royals Way
Kansas City, MO
816.504.4000
Seating Capacity: 400 Knights of Columbus Celebration Center 5111 E. 112th Terr.
Kansas City, MO 64137
816.966.1492
Seating Capacity: 350 Knights of Columbus Pope Pius XII Council 5101 Blue Ridge Cutoff
Kansas City, MO
816.356.4962 455 W. Eisenhower Road
Lansing, KS 66043
913.727.6600 x305
Seating Capacity: contact venue B ~~ DH and I wanted to get married in his family church because it was absolutely beautiful and because most of his family has been married there. Unfortunately this meant getting married in Leavenworth where there weren't a whole lot of options to host the reception. We met with Marc George, the chef and manager, in January and saw the club and got the pricing. The prices were right in our budget and the club had a great view. Marc was not easy to get a hold of and even though he told us to use email to contact him, he rarely responded promptly and usually required 2 or 3 messages before we got in touch with him. He seemed to frequently forget what he had told us in prior discussions. For example, he told us the alcohol prices included tax and gratuity then charged us for this later. Eventually he gave in on the tax but not the gratuity. He also told us part of our deposit would be applied to our bill, however, it never was and he said it wasn't supposed to be applied to the bill, it was for cleaning up, etc.

The day of we had great service, until it was time to pay the bill. The person that gave me the bill informed me that even though gratuity was included, they only got 5% of it so I needed to include more. I was appalled she would even say this, especially since I was paying 18% gratuity already and they had tip jars out even though I specifically said not to!! When I gave them the receipt back with "included" on the tip line they began taking down the room even though the party was still going!! The next day I actually looked at the bill and found I had been overcharged by $600 (tax and gratuity plus overcharging for wine). After a few emails and phone calls we are told we will receive a refund of $450, but I've yet to receive the check.

I'd recommend the club only if you make Marc put everything in writing as you go along, not waiting until the end like we did. Also, I'd make sure you go over the bill at the end and make sure it's correct. 106 S. Sterling
Sugar Creek, MO
816.254.1640
Seating Capacity: 250 Lee Andrew Hall and Gardens 8510 South 7 Hwy
Blue Springs, MO 64014
816.228.3030 Lee's Summit Masonic Hall 2409 S M.291 Hwy,
Lee's Summit, MO
816.524.0112 A+ ~~ Again! They even helped us get the food ready Little Theater 301 W 13th St., Ste 100
Kansas City, MO
816.513.5014 used by shannirish From: shannirish A ~~ Beautiful space, speaks for itself, and the price was definitely right at $1250 for a Saturday night!!!! The only downside is the stupid construction going over ALL AROUND downtown, which is not the fault of Little Theater by any means. 16750 Country Club Dr.
Belton, MO
816.322.1022
Seating Capacity: 300 used by mothchick, wilsontobe From: wilsontobe 3361 SW Longview Road
Lee's Summit MO
816.761.6669
Seating Capacity: up to 400 (250 seated) From: mrsmolly* 1111 W 39th St
Kansas City, MO
816.531.3111
Seating Capacity: 300 chapel/180 reception 101 E Armour Blvd
Kansas City, MO
913.897.0482
Seating Capacity: 325 seated, 190 ceremony A+ ~~ This was, by far, the best decision I made regarding the wedding. DH and I fell in love with the Mansion from the moment we first saw it. In fact, we didnít look at a single other venue. We received so many compliments on the wonderful space, delicious food, and attentive staff. The Mansion itself is beautiful. They recently finished the third floor ballroom which is an awesome space for a reception. We had the dinner downstairs and moved up to the third floor for the party. The food at the Mansion is so good and we thought very reasonably-priced. They have a lot of different menu options and were very flexible with our needs. The Mansion also allows you to bring in your own alcohol, so that also saved us a lot of money. The Mansion staff works very hard to ensure that the day runs smoothly. They completely took care of all the details for me, from ordering the candles for the reception to coordinating with the florist and the cake lady. One perk about the Mansion is that you are able to use their centerpieces. They have a huge selection, and all of their options are very nice, for example, our centerpieces included crystal bowls and vases. Reception Food: Cafť Sebastienne at the Kemper
A ~~ Beautiful location and amazing food. The staff is quirky but adequate (most are not "professional" servers - many are students at the art institute). Definitely challenges holding an event at a museum (no candles, required insurance policy, lighting concerns, etc). Canít beat the modern look/feel if youíre into art (and your guest list is ideally under 175 Ė we had 190 and it was a bit tight). 3810 Main Street
Kansas City, MO
816.753.8880 B ~~ We absolutely loved the inside of the Madrid Theatre- visually, space-wise, and price-wise, it was the perfect venue for us. However, we ran into a lot of unneccessary stress about 2 months before the wedding when they got rid of their coordinator, Kim, whom we loved working with. Up until the last couple of weeks before our wedding, when they hired Missy of White Lily Weddings, I was about to pull my hair out! Everything was disorganized, hard to get answers, and I had to constantly remind them of our choices, etc. We would recommend the venue, but be slightly leary of going with them until they get their act together, and would make sure that Missy is still working there if you sign with them, as she helped ease the situation. In the end, the guests loved how everything looked, and we got lots of compliments on the food!! Marriott 200 W 12th St
Kansas City, MO
816.421.6800
Seating Capacity: 1500 4445 Main Street
Kansas City, Missouri 64111 USA
816.531.3000
Seating Capacity: 200 to 400 guests C- ~~ I have mixed feelings on the Marriott. We originally booked and signed with Alison, but about a month prior to the wedding, she left the hotel. With the new coordinator, I had a much harder time getting a hold of to answer questions. When we arrived at the Marriott on the day of the wedding, we were supposed to have a holding room away from the reception for the wedding party to rest in during the c*cktail hour. They did find a room for us to wait in, but it was across the hall and periodically people came in to talk to us instead of keeping us away. As the dinner started, the food was AMAZING. During the initial parts of the dancing, the lights were still fully on instead of dimmed as we had wanted. I was upset that I wasn't told before the reception started (we had been at the hotel for about an hour before the reception started and this could have been taken care of at that time.) When I asked around, I was told that the lights were broken and they could either be on or off, and it was against the fire code for them to be off. A friend who was acting as a coordinator pressed harder and the banquet staff worked on adjusting the lights. For about 20 or 30 minutes, periodically the lights were turning on or off as they tried to adjust them. Finally, they got to a level that I felt was okay (and it actually helped get more people to the dance floor). However, I don't feel like the staff would have tried as hard had my friend not pushed them to with asking if the reception had been fully paid for. I really feel like that was the only reason they tried to adjust the lights as I wanted. Another promise that we had been given was that as the reception started, all gifts would be taken to my parents room during the reception. At the end of the night, all of the gifts were still sitting on the gift table and had never been touched as we had repeatedly requested prior to the day of the wedding. Lastly, we left to go to our room and all of the bridal parties bouquets were still in the ballroom. My sister took two bridesmaids bouquets home, and we thought that the others would be put with the flowers we had brought to go next to the cake table. The next morning when we collected everything, my flowers were nowhere to be found. Despite two days of phone calls, we feel like my flowers are lost, which is incredibly disappointing. The last "problem" we had is just a difference in opinion on the amount of alcohol that was consumed throughout the night. DH and I left the reception around 10:30, but a good majority of the people left around 9:30. Based on their numbers however, there was enough alcohol consumed to make the amount we were charged go from per drink to an unlimited charge. This would total to over 6 drinks per person. I seriously doubt that happened. We saw their totals though and have no way to fight them on it, so we really don't have any way to dispute it. I truly believe that this added over $2,000 to what the total charge should have been. However, besides those things, overall, I felt like the Marriott was a good place (with incredible food), but those kinks made me not feel like it was great. Although I wouldn't deter people from having a reception at the Marriott, I am not sure that I would fully recommend it. The Mansion House 2121 S. Sterling
Independence, MO
816.254.5416
Seating Capacity: 300
Notes: No Alcohol Permitted Masonic Hall 2409 S. M291 Hwy.
Lee's Summit, MO
816.524.0112 Milano at Crown Center 2450 Grand, Ste 321
Kansas City, Mo
816.426.1130
Seating Capacity: 410 35250 West 199th Street
Edgerton, KS
913.831.3355
Seating Capacity: 250 guests Note - Women currently having issues with vendor
5903 Johnson Dr.
Mission Kansas 66202
913.362.2107
Seating Capacity: 300 people A+ ~~ Let us in early to decorate. Communicated with us. Ryan is great. The room turned out beautiful. He is a talker and we enjoyed working with him. The bar got hit hard and it was difficult for them to keep up at first. Pretty typical though. Beware: he is serious about closing the bar at 11:00. He did give us lots of soda and water until we left. Guests commented on how they liked the space and atmosphere. He went above and beyond getting a particular wine for my MOH (we paid for it and got the leftover unopened bottles.) B ~~ The place looked beautiful with our decorations set up. It was tight in there for awhile though..I think we had about 220-240...don't know how 300 could fit but he says it can. My guests had a good time and I am mostly happy because that. There were a few irritations with some things, but it didn't ruin the night! 8625 E. Wilson Rd.
Independence, MO 64053
816.252.8585
Seating Capacity: 250 Let me start by saying, I almost didnít even look at this hall because of the location, but decided to go ahead and look because of the price. I am soooooo glad that I went with my gut because I loved this hall! Itís very nice inside and out! Everyone there is so great to work with, it is easy on the budget, bring in your own caterer and pretty much what ever you want, and are open to ideas you may have that could possibly go ďagainstĒ their rules. They give you the option to rent it the Friday before your event to give you a chance to decorate and get it set up, and is very inexpensive. A ~~ Great place for a reasonable price to have a reception!!The ladies are also great to work with!! Mulberry Hill Bed & Breakfast 226 N. Armstrong
Pleasant Hill, MO
816.540.3457 6316 N. Oak
Gladstone, MO
816.452.1200
Seating Capacity: 450 9800 Grandview Rd
Kansas City, MO 64137
816.761.5501 A+ ~~ Oakwood is a beautiful location and just recently opened up to do events for non-members. They were very accommodating and I knew everything would go as planned. This was the least stressful of my vendors to work with. The food was delicious! We served appetizers of crab cakes, lobster quesadillas and spring rolls. Every bite was gone. For dinner we had a Cesar salad, seafood lasagna and chicken parmesan and asparagus with carrots. Everything there was excellent! Oak Grove Civic Center 2100 Broadway
Oak Grove, MO
816.690.3773 5101 Old Pike Rd.
Gladstone, MO
816.453.2550
Seating Capacity: 200 18212 Golf Drive
Smithville, MO
816.532.4100 Park Place Hotel 1501 N. Universal Ave.
Kansas City, MO
816.483.9900
Seating Capacity: 700 13030 Shawnee Mission Parkway
Shawnee, KS
913.631.7558 used by Ashbrat From: Ashbrat A+ ~~ Shellie had everything how I wanted it! She was extremely easy to work with. We had 2 hrs the day before to set Ėup. There were 5 of us and we could have left with at least 45 minutes to spare, but I spent a lot of time just talking with her. The Pavilion 913.962.2002
Seating Capacity: up to 300 A+ ~~ Not only is the site beautiful, they are extremely competent and easy to work with. I literally did nothing. Kathy gave me options for food and I gave her my decision 2 weeks before the wedding. Three days before the wedding, I gave her final numbers for food/drinks. The day before, I dropped off our cake topper and toasting flutes. Everything else was taken care of for meóshe does all the decorating (they already have the centerpieces, etc. there to choose from), acts as the coordinator throughout the event, and cleans up everything afterwards. She had a drink waiting for DH and me when we walked in the door and took care of us all night. They made the exact perfect amount of food and it was delicious. People are still talking about it. When DH and I left at the end of the night, she sent to-go boxes of food and cake with us for a snack at the hotel. The reception could not have gone better! One Arrowhead Dr
Kansas City, MO 64129
816.920.4572
Seating Capacity:
| Room | Theatre | Banquet |
| --- | --- | --- |
| Champions Room | 750 | 450 |
| The Sideline Room | 125 | 75 |
| Victory Zone | 750 | 450 |
14831 E. 40 Highway
Kansas City, Missouri 64136
816.478.4848
Seating Capacity: contact venue
1609 NW U.S. Highway 50
Kingsville, MO
816.697.2600
A+ ~~ We used the recently renovated hall at the church for our reception. It was really big and the staff was great to work with. It cost about $500 I think. They provide the tables and chairs. There is a full kitchen for the caterer and they have plenty of space. We had room to set up a band, dj, head table, 35 guest tables, 2 buffets, 2 bars, a gift table, and a cake table, plus the dancefloor. It worked out so well. We were able to get the keys to the hall on Thursday evening so we set up the entire space on Thursday night and had nothing to worry about on Friday. You can bring your own food and alcohol too!
Quivira Lake and Country Club
A ~~ We loved the ballroom out at the lake--itís just not that close to much of anything. The coordinator there, Karen, will take care of everything. Luckily, Iím very hands on and they didnít have any events that week, so I could go in and begin setting everything up on the Thursday before. This was especially helpful as we had table runners that needed to be laid out (and Iím very specific) and pillar candles and glass candlesticks, so basically I could get everything done ahead of time. I looked at a ton of different options in KC for the reception and this was much more reasonable than I would have thought. You have to know a member to be sponsored, but itís a great value if thatís an option. Also, in the summer, thereís amazing views from the ballroom out on the lake.
12601 W. 95th Street
Lenexa, KS 66215
888.201.1718
Seating Capacity: 350 guests
Iím sure I paid more for having a hotel reception, but it was so worth it in the end! They did everything and I had to worry about NOTHING! Our reception coordinator Ė Michelle Dauten - was fantastic! As DH said, ďAnyone who will put bandaids on a brideís foot while she is waiting for a drink is worth the money!Ē She was there whenever we needed her ~ all night long ~ and did everything she could to make this easy! The food was fantastic, the room setup was beautiful, and all the staff were beyond words! We had our own waiter for our sweetheart table. We never went without wine/soda/beer/etc. He even refilled DHís plate so he didnít have to get up and go to the buffet. I just canít say enough about it!

Ramada Inn-KCI Airport
7301 NW Tiffany Springs Rd.
Kansas City, MO
816.74.9500
Seating Capacity: 250 2322 E. Rd Mize Rd
Independence, MO
816.795.0777
Seating Capacity: 325 seated, 190 ceremony 9000 W 137th St
Overland Park, KS
913.685.2600
Seating Capacity: 1200 total, 200/room used by MrsDerek From: MrsDerek A+ ~~ Everything looked wonderful when we got there and I received so many compliments on the lighting, set up, dcor, etc. Ruth and Eric were fabulous to work with and I could not have asked for it to be better. I would DEFINITELY recommend the Ritz. River Market Brewery 500 Walnut
Kansas City, MO
816.471.6300
Seating Capcity: 280 River Oaks Golf Club 14204 St. Andrews Dr.
Grandview, MO
816.966.8111
Seating Capacity: 150 4520 Kenwood Ave
Kansas City, MO 64110
816.931.1316 used by BrycesBeauty, MrsKCBride06 From: BrycesBeauty From: MrsKCBride06 B+ ~~ This location needs to be broken down into different categories.. The location itself is an A+, it is so beautiful and amazing! The wedding coordinator is incredibly nice but we kept getting mixed up information about different things and felt that we were sometimes being told what we wanted to hear so that we would book and then later, we were told something else.. I give the wedding coordination a B. The staff did average work and seemed to be somewhat rude.. luckily we didnít have to talk to them much.. give the staff a C. The food quality was wonderful so we give that an A+. This location is definitely amazing.. the food and the beauty of the location are what it is really about so that is why they get a B+. Savoy Grill 219 W. 19th
Kansas City, MO
816.842.3890
Seating Capacity: 250 106 W 11th St
Kamsas City, MO
816.812.3333
Seating Capacity: 300 seated 819 Walnut
Kansas City, MO
816.221.4110
Seating Capacity: 350, 300 seated used by med380 2902 Blue Ridge
Kansas City, MO
816.254.8021
Seating Capacity: 250 613 S. Race St.
Spring Hill, KS
913.592.2304 Staley Farms Golf Club 10310 N. Olive Avenue
Kansas City, MO
816.734.3839
Seating Capacity: 250 8905 Shoal Creek Parkway
Kansas City, MO 64157
816.407.7242
Seating capacity: 250 11099 West 135th Street
Overland Park, KS
913.897.3804 used by iluvdaisiesamp From: iluvdaisies 4600 Starlight Road
Kansas City, MO 64132
816.363.7827 Stephenson's Old Apple Farm Restaurant 16401 East U.S. Hwy. 40
Kansas City, MO
816.373.5400
Seating Capacity: 175 A+ ~~ The banquet hall was gorgeous and is perfectly suited for about 100 guests, although I've seen it set up for as many as 180. The fees include complete setup and cleanup. You just take in the decorations you want to use and tell them what you want and they'll set it all up for you, which was a real relief for me. Linda was incredibly easy to work with and very accommodating. Her emails always seemed a little abrupt but that's just the way she writes emails -- in person she's very nice and as sweet as she can be. Very highly recommended! 1111 Main St # 800
Kansas City, MO 64105
816.472.9600
Seating Capacity: 2000 A+ ~~ We chose this site because it is absolutely beautiful. It is an atrium-style lobby with a massive staircase. There is shiny marble throughout. An absolutely huge space, with multiple levels (if needed). It's very elegant. There was free secure parking, 2-3 security guards for the entire event. We rented the tables and chairs through the Town Pavillion which were cheaper than using an outside vendor, plus they set them up and took down. We were able to get in the day before the wedding to begin setting up! The food and bars were in the side wings, so it didn't interfere with the tables and dance floor in the center.
Sharon Ko is the contact and coordinator. She is completely friendly, organized, honest, and on-time. She has always returned every phone call or email within 24 hours. Sharon handled all of the vendors and made sure they were able to get into the site and where to park. All I did was give her a list and their phone numbers. I never worried about that aspect of it at all.
Then venue went under construction 5 months before our wedding (not under their control, due to a new tenant). They offered us a full refund and help to find a new venue, but ensured us everything would still be fine if we stayed. We decided to stay and you couldn't tell there had been construction at all. I was very impressed! Apparently, Sharon was in a car accident the day of the wedding. She was still at the venue and finally told me about the accident at 10:30pm and asked if she could leave to go to the hospital. Of course I said yes!!!

P.S. These photos are of when we toured, not our wedding set up. Union Ballroom (on CMSU campus) A. We rented the two rooms for $795 and that included tables, chairs, linens, real china and glass ware, use of the projector and screen, dance floor, and use of the building from 8:00am-11pm. you could buy the extra hour for $50, which we did. The ballroom is right across the sidewalk from the chapel, which was very convienent. All in all it was a great deal, the space looked great, no complaints. 30 W. Pershing Rd
Kansas City MO
816.460.2020
Seating Capacity: 2000 University Club 918 Baltimore Ave.
Kansas City, MO
816.474.6000
Seating Capacity: 350 400 N.W. Vesper St.
Blue Springs, MO
816.228.0181
Seating Capacity: 300 4120 Baltimore
Kansas City, MO 64111
816.753.1008 7200 NW Eastside Dr
Weatherby Lake, Missouri 64152
816.505.2683
Seating Capacity: 190 people 1644 Wyandotte
Kansas City, MO
816.221.4713
Seating Capacity: 150-400 The Westin Crown Center One Pershing Rd
Kansas City, MO
816.474.4400
Seating Capacity: 1100 8303 Westridge
Raytown, MO
816.358.6690
Seating Capacity: 150 people